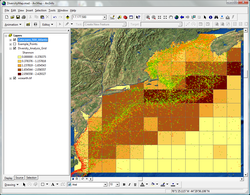 In this workshop, Jason Roberts from the Mapping and Visualization team presented Marine Geospatial Ecology Tools (MGET), a collection of geoprocessing tools for marine research, and demonstrated three scenarios using MGET and ArcGIS:
We downloaded point data from OBIS using the DiGIR protocol.
We created a grid of polygons having a specified extent and cell size and computed Shannon's diversity index for each cell.
Starting with OBIS points representing cetacean observations in the northwest Atlantic, we sampled remotely-sensed bathymetry, SST, and chlorophyll, and built a model that predicts the habitat of Atlantic spotted dolphin (Stenella frontalis) using a Generalized Additive Model (GAM), and created range maps for the animal.
For more information: